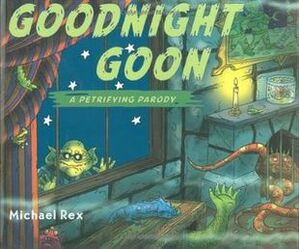 Goodnight Goon: A Petrifying Parody is a children's book written and illustrated by Michael Rex. It was first published in 2001.
Goodnight monsters everywhere, in this parody romp with its own special twist! Goodnight tomb. Goodnight goon. Goodnight Martians taking over the moon.
It's bedtime in the cold gray tomb with a black lagoon, and two slimy claws, and a couple of jaws, and a skull and a shoe and a pot full of goo. But as a little werewolf settles down, in comes the Goon determined at all costs to run amok and not let any monster have his rest.
A beloved classic gets a kind-hearted send up in this utterly monsterized parody; energetic art and a hilarious text will have kids begging to read this again and again.
Community content is available under
CC-BY-SA
unless otherwise noted.